What's UmiharaJS?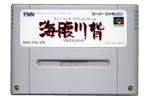 Umihara Kawase ROM Cartridge
UmiharaJS is a clone of Umihara Kawase, a video game for SNES released by NHK-SC. For more details of Umihara Kawase, see the article in Wikipedia. UmiharaJS is implemented with only standard ECMAScript and DHTML.
Instructions
At the ground, hit 4/6 key to walk left/right.
Hit X key to jump.
When line is hooked, hit 8/2 key to extend/draw line.
Hit Z key to shot line. Holding Z key, hooked line will be kept.
by Satoshi Ueyama id:gyuque